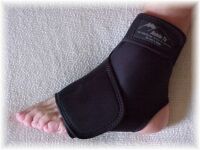 Overview
Heel spurs (calcaneal spurs) are protrusions (bumps) on the forward underside of the heel bone that can occur when the plantar tendon pulls excessively in the area where it attaches to the bone. The condition is often associated with plantar fasciitis, although it can also occur on its own. Heel spurs typically are not painful unless they intrude into the soft tissue (plantar fascia), where they can cause irritation that results in heel pain.
Causes
Heel spurs form in some patients who have plantar fasciitis (PLAN-tar fash-ee-I-tis), and tend to occur in patients who have had the problem for a prolonged period of time. While about 70 percent of patients with plantar fasciitis have a heel spur, X-rays also show about 50 percent of patients with no symptoms of plantar fasciitis also have a heel spur.
Symptoms
Heel spurs often cause no symptoms. But heel spurs can be associated with intermittent or chronic pain, especially while walking, jogging, or running, if inflammation develops at the point of the spur formation. In general, the cause of the pain is not the heel spur itself but the soft-tissue injury associated with it. Many people describe the pain of heel spurs and plantar fasciitis as a knife or pin sticking into the bottom of their feet when they first stand up in the morning, a pain that later turns into a dull ache. They often complain that the sharp pain returns after they stand up after sitting for a prolonged period of time.
Diagnosis
The diagnosis of heel pain and heel spurs is made by a through history of the course of the condition and by physical exam. Weight bearing x-rays are useful in determining if a heel spur is present and to rule out rare causes of heel pain such as a stress fracture of the heel bone, the presence of bone tumors or evidence of soft tissue damage caused by certain connective tissue disorders.
Non Surgical Treatment
If pain and other symptoms of inflammation-redness, swelling, heat-persist, you should limit normal daily activities and contact a doctor of podiatric medicine. The podiatric physician will examine the area and may perform diagnostic X-rays to rule out problems of the bone. Early treatment might involve oral or injectable anti-inflammatory medication, exercise and shoe recommendations, taping or strapping, or use of shoe inserts or orthotic devices. Taping or strapping supports the foot, placing stressed muscles and tendons in a physiologically restful state. Physical therapy may be used in conjunction with such treatments. A functional orthotic device may be prescribed for correcting biomechanical imbalance, controlling excessive pronation, and supporting of the ligaments and tendons attaching to the heel bone. It will effectively treat the majority of heel and arch pain without the need for surgery. Only a relatively few cases of heel pain require more advanced treatments or surgery. If surgery is necessary, it may involve the release of the plantar fascia, removal of a spur, removal of a bursa, or removal of a neuroma or other soft-tissue growth.
Surgical Treatment
Surgery is used a very small percentage of the time. It is usually considered after trying non-surgical treatments for at least a year. Plantar fascia release surgery is use to relax the plantar fascia. This surgery is commonly paired with tarsal tunnel release surgery. Surgery is successful for the majority of people.
Prevention
Walk around before you buy shoes. Before you purchase your shoes, do the following. Re-lace the shoes if you're trying on athletic shoes. Start at the farthest eyelets and apply even pressure to the laces as you come closer to the tongue of the shoe. Make sure that you can wiggle your toes freely inside of the shoe. Also, make sure that you have at enough space between your tallest toe and the end of the shoe. You should have room equal to about the width of your thumb in the tip of your shoe. Walk around to make sure that the shoe has a firm grip on your heel without sliding up and down. Walk or run a few steps to make sure your shoes are comfortable. Shoes that fit properly require no break-in period.